Everything you need to know about reversible fashion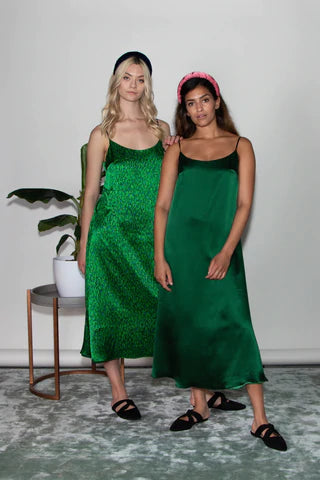 By Ellie Peach
What is reversible fashion?
A reversible piece is something that can be worn two ways. You usually just have to pop it inside out, and you'll be wearing a totally different garment. They are so great to own as having the option of two pieces you love in one has so many benefits;
Particularly when packing, reversible pieces will help you save on luggage space. Thus, you will have less weight to carry and more room dedicated to bringing back souvenirs from your holiday! Alternatively, if you are packing an overnight bag for your partner's or a friend's house, the less clothing to haul around, the better! 
You will save tons of room in your wardrobe. With the amounts of microtrends we are seeing now every year, almost all of us are buying new clothes we simply don't need or will only wear a few times. Buying reversible clothing will save this space, and having pieces in colours and styles you consistently buy will ensure these pieces become a staple rather than something you struggle to style outside of the trend cycle.
The ability to change during the day cannot be emphasised enough. I'm sure we've all been in a situation where the day gets away from us, and you find yourself in a setting you didn't expect to be in. For instance, going from the office to a bar. The change from business to chic or casual to fun can be effortless. With the unpredictability of life, it is so handy to be able to change your outfit without rushing home in a panic. Reversible clothing will be invaluable in this respect.
To build up your capsule wardrobe! This is effectively trying to have as little items as possible that make up multiple outfits. Say 3 to four of each type of garment, that can all be paired together for different occasions or weather. This may include;
-one or two skirts, 
-two pairs of jeans, 
-Three of your most versatile tops,
-Three types of jackets for different weather,
-Three bags 
-And your favourite staple accessories such as sunglasses, jewellery and scarves etc. 
These pieces should all follow a similar colourway so that they can all be worn in different ways together and pair perfectly. A reversible piece thrown in the mix will add more colour options or styles without taking up more room!
Being sustainable is another way reversible garments come in handy. This is because the item (a skirt, top or jacket, for example) can effectively double as two pieces of clothing. Thus you will have to buy less, reducing the amount of waste you produce! 
What's even more key is that the clothing needs to be good quality to be effective as a reversible garment, so you will be investing in a product that will last a long time, promoting slow fashion.
Reversible clothing is a fun and easy way to level up your wardrobe, but where can you find them?
Here are 4 Fashion brands you can buy reversible pieces from.
1.
Isabel Mans
- A sustainable womenswear brand with a stunning collection of reversible pieces ranging from evening wear to summer dresses. The pieces are generally one side of beautiful print and the other an elegant single colour, enabling you to mix and match depending on your mood! 
We love this Alice silk satin dress in Emerald/ forest green for summer!
https://isabelmanns.com/collections/reversible 
2.
Seams friendly
- The eco-friendly brand offers locally sourced, affordable clothing and their reversible range include blouses and different styles of jackets for any occasion. This quilted cotton jacket really caught my eye as it is lightweight enough to work as an everyday jacket and comes with a detachable hood if the weather takes a turn for the worst!
https://seamsfriendly.com/search?q=reversible type=product 
3. Sunday London - The virtually zero waste store offers a stunning range of reversible swimwear. Their brand stands for body positivity, and their collection features bright and fun patterning and colourful styles. The Jade reversible Bikini is my absolute favourite. Its bold colours are cute while still flattering any body type.
https://www.sundaylondon.com/search?q=reversible 
4. Vivai - Is a sustainable footwear and accessories brand that uses recycled plastic bottles to make up most of their products. They offer a beautiful collection of reversible tote bags 'Zaneta' using this same material.           
 https://www.vivaiacollection.com/


You should also always check secondhand platforms such as Vinted or Depop first for reversible clothing more to your taste or budget. You'll be able to find hundreds of reversible styles that are right for you while being more environmentally  conscious. Alternatively, you could start sewing! This and buying second-hand is an excellent way to reduce your carbon footprint. There are many tutorials online for sewing reversible pieces such as skirts and tops that are very beginner-friendly. What's perfect is that you have complete creative control to make it your dream reversible garment without sacrificing particular aspects!
Ultimately reversible garments are a great way to up your sustainable fashion game. They can be helpful for people wanting a smaller capsule wardrobe or those wanting the choice to change outfits during their day as they please. So why not explore the style and see if you love it!
Leave a comment
Comments will be approved before showing up.